Regular price
Sale price
$29.99 USD
Unit price
per
Sale
Sold out
You know the drill
You wake up and make yourself a steaming hot cup of coffee, or maybe it's a tea day? Either way, you're feeling a little stagnant in your morning routine, like you could shake things up…like maybe there's something better out there—a morning cup with the benefits you've hoped for. Rasa can help with that.
Rasa's line of adaptogenic coffee alternatives supports you in building energy from within and supporting your stress response. Adaptogens energize and nourish, and have been used for millennia to restore balance to the body. More balance means you have more stress resilience, a stronger immune system, better libido, sunnier moods, and more energy to be your epic self. Rasa blends pack 1,000-10,000 mg of these amazing herbs per serving. Finally, a morning cup that loves you back!!
Share
Ingredients

Roasted cacao*, roasted chicory*, roasted burdock*, shatavari*, roasted
dandelion*, codonopsis*, eleuthero*, roasted date seed*, roasted maca*,
ceylon cinnamon*, ashwagandha*, rhodiola*, chaga mycelium*, & reishi
fruiting body extract*

*All certified organic, non-GMO, obsessively sustainable, ✨🌿 & blessed by grassfed unicorns 🦄 **
Shipping

Orders will process within 48 business hours of placing an order.. Orders ship UPS or USPS and typically take 3-5 business days to arrive from Arizona. If you prefer your order to arrive faster you may select a faster shipping time at checkout and call us. Once order is out of office we have no control on how fast boxes take to arrive. Please connect with carrier.
View full details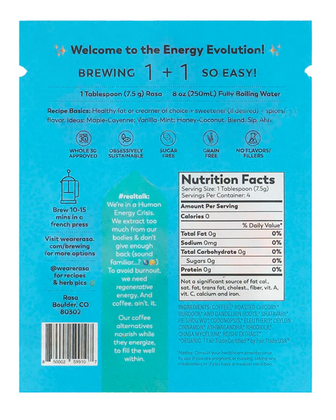 Rasa - here to transform the way we energize
with delicious, adaptogen-packed herbal coffee alternatives
They're so functional we call them superfunctional.
Clinical herbalist-formulated. Supports:

✔️ Sustained, nourishing energy
✔️ Decreased stress
✔️ Balanced mood
✔️ Nervous system health
✔️ Better sleep
Adaptogens
Adapto-whats?
Adaptogens are practically magical herbs that grow (and thrive!) in stressful environments. In short*, they help your body cope with stress by giving your body what it needs in the moment.
Exhausted? An adaptogenic herb will perk you up.

Wired as heck? That same adaptogenic herb will calm you down.
Yes, they really are that brilliant.
Adaptogens help you to freak out slower (& less intensely!), and recover faster in response to stress…all while increasing stress resilience overall.
They work via your endocrine and nervous systems to help you cope with stress better.
Check out this fun graph from
adaptogen scientist Alexander Panossian below:
Why Rasa? How it started
Meet Lopa, founder of Rasa
"Hi! 👋 I'm Lopa. I had my first baby during the most stressful year of my life. (Trust me, it was one for the record books!)

Many moms guzzle coffee to get through the bone-deep exhaustion of early motherhood (no shade if that's you!)...but my nervous system was frriiiieeed and coffee just gave me anxiety, panic attacks, & crap sleep.

I needed something that didn't "steal energy from tomorrow to fuel today," as Traditional Chinese Medicine says.
I tried *every* coffee alternative, but...meh. Chalky. Weak. Low-quality ingredients. No energy or functional benefits. So-called "natural" flavors that lacked OOMPH.
Worst of all? Fake adaptogens (yep, it's a thing) and unsustainable ingredients. 😕 Hard no.
And So Rasa Was Born...
I took my decade-long personal devotion to Ayurveda and partnered with an herbalist to craft a dark, rich, and roasty coffee alternative, loaded with adaptogens.

What started with me elbow-deep blending herbs in my kitchen (+, let's be real, processing trauma and being a new, harried mom) has now served over 100,000 customers worldwide. I am deeply humbled & grateful to be able to share Rasa with you.
Cheers to your joy & love to your heart.
💛,
Lopa"
Made of organic herbs, adaptogens, & mushrooms drawing on ancient tradition and informed by modern science
Energy

Energizes from within using 1000s mg of unique adaptogens that aren't typically found in Coffee Alternatives or Mushroom Coffee
Caffeine Content

0mg of caffeine - ORIGINAL

5mg of caffeine - CACAO

35mg of caffeine - DIRTY
How it's formulated

Formulated by a clinical herbalist for function and flavor
Sourcing and sustainability

Meticulously sourced for quality, bioavailability, and long-term ecosystem sustainability
ABOVE: Adaptogens increase the state of non-specific resistance in stress and decrease sensitivity to stressors, which results in stress protection, and prolong the phase of resistance (stimulatory effect). Instead of exhaustion, a higher level of equilibrium (the homeostasis) is attained the heterostasis. The higher it is, the better the adaptation to stress. Thus, the stimulating and anti-fatigue effect of adaptogens has been documented in both in animals and in humans. Adapted from [26,78,133].
Panossian, A., and Wikman, G. Effects of Adaptogens on the Central Nervous System and the Molecular Mechanisms Associated with Their Stress—Protective Activity 2010 - Adaptation of RASA's Graphic
"Lovely, but...obsessive... nitpicky...annoyingly ethical"
That's the feedback Rasa gets from their supply chain about their
Chief Herbalist & Co-Founder, Ben.
Rasa's perspective?
If it's going into the bodies of our fellow humans, it better be impeccable.
Rasa believes in right relationship.
From the soils that feed their herbs, to the humans who harvest their botanicals, to the companies like us, Wuji, who share Rasa with our customers
Rasa does things right, even when it's hard.
SUSTAINABLE SOURCING

Rasa sources over 50 botanicals from 15 countries, with an obsessive focus on long-term ecosystem sustainability, potency, geoauthenticity, & safety.

For example: don't see wildharvested chaga in their ingredients? ...that's because it's endangered.

PURITY & TESTING

Rasa uses a wide range of strategic testing at 3rd party labs for pesticides, heavy metals, sulfites, allergens, & microbial contaminants. Rasa also doesn't use grains, fillers, or any garbage


SOCIAL RESPONSIBILITY

Rasa buys fair-trade or direct trade, often paying better than fair trade prices. They also develop close relationships with their suppliers around the world, building trust & friendship across their supply chain. #rightrelationship
Cacao Blend
An indulgent treat you can say yes to... every day (Seriously. We guzzle it here at the Wuji HQ), and yet is still packed with adaptogens and antioxidants to be healthy enough to drink daily. And with 5 mg caffeine per 8 oz cup, you can also drink it all day long!
Rasa tested dozens of cacao beans to find the perfect beans to complement the signature Rasa formula and also meet their stringent standards for sustainability and ethics. Rasa's Ecuadorian nacional cacao beans were selected for their bright and robust chocolate flavor that brought out the best in our coffee alternative blend. The beans are then sun dried and gently roasted for a chocolate flavor to savor that gives you a happy energy that sustains all day.
Rasa's cacao is sourced direct-trade, which offers a closer relationship with their suppliers and affords them better than fair-trade pricing. 
Go on, take a moment for yourself!
Dirty Blend
Your daily coffee, now with a hug for your nervous system.
The signature Rasa adaptogen formula blended with organic, fair trade coffee—sourced only from women-owned and operated farms. For days when
you need that extra boost, it's one of our favorite ways to enjoy Rasa.
The adaptogens in Rasa's signature formula balance out the nervous system and adrenal impacts of the coffee for a sustainable energy boost that many who are sensitive to coffee say is "the only coffee I can drink."
Balanced, sweet and chocolatey with an earthy note. We tested dozens of coffees to find a bean to pair perfectly with our adaptogenic blend and optimize the grind that would perform optimally
with Rasa's longer brew time. 
✨Just another reminder that you've got this and we've got you. ✨
35 mg caffeine per 8 oz cup (~1/3 a regular cup of coffee) or brew it double-strong if you want more juice.
Mix with Cacao Rasa for a delicious mocha blend.
Wuji Life is dedicated to providing you with exceptional wellness products that are of the highest quality. We have teamed up with renowned health companies across the globe to bring you products that align with our values and meet our strict standards. We firmly believe in the effectiveness and integrity of these companies and their products, and are confident that they can have a positive impact on your journey towards wellness. With Wuji Life, you can trust that you are receiving only the best in health and wellness.
Wuji LIfe is a partner distributor for Rasa. All information and photos presented on Rasa are owned by Rasa. ©Rasa
Wuji is the State of Pure Potential, the Foundation for Movement, Balance, and Harmony!
Wuji represents the state of the Universe at the beginning of time before the Big Bang occurred - the moment before limitless creation.
From Wuji emerges absolute and infinite potential, it's the oneness prior to the duality from which Yin and Yang originate.
To live through Wuji, is to see your life as limitless in every moment. It's the opportunity to create change, the opportunity to find your balance in wellness through Stillness and Motion, the opportunity to THRIVE in all parts of your life.
You ARE Wuji. You are Limitless - there are no bounds to what you can create for yourself, it's only potential that awaits you.
You make the choice, for you are Pure Potential!
It's a Brand New Day for a Limitless Life!
The Legal Language
The information provided on this supplement page is intended for general informational purposes only and should not be considered a substitute for professional medical advice, diagnosis, or treatment. The claims and statements made about the product have not been evaluated by the U.S. Food and Drug Administration (FDA) and are not intended to diagnose, treat, cure, or prevent any disease.
While holistic and natural remedies have been embraced by many individuals seeking alternative approaches to health and wellness, it's important to recognize that there may be situations where conventional medical intervention is necessary. Every individual's health condition is unique, and what works for one person may not be suitable for another.
If you have a medical condition, are taking prescribed medications, are pregnant or nursing, or have concerns about potential interactions with existing health conditions, it's crucial to consult a qualified healthcare professional before using any dietary supplement. A qualified healthcare provider can help assess your individual needs and provide personalized guidance based on your medical history and current health status.
Remember that self-diagnosis and self-treatment without proper medical guidance can have serious consequences. The decision to incorporate any supplement or holistic remedy into your healthcare regimen should be made in consultation with a qualified healthcare professional. Always prioritize your health and well-being by making informed decisions under the guidance of trusted medical experts.
Please be aware that the content provided on this page is not intended to replace professional medical advice. Reliance on any information provided herein is solely at your own risk. The creators and distributors of this supplement disclaim any responsibility for any adverse effects resulting from the use of the product without appropriate medical supervision.